Aleana Egan
b. 1979, Dublin, Ireland
Aleana Egan's art is predominantly intuitive and subjective; she uses simple materials, assembled or barely transformed, to create enigmatic works that have a restrained tone and structure. She groups these pieces into installations that are oddly ambivalent; on the one hand she draws our attention to the way things look, how they settle, sag, curve, or hang; on the other, her forms and shapes act as traces or memories, and as a tentative articulation of shifting responses to remembered places or everyday moments. Gaps and absences are at the heart of what Egan does, and this is what makes her work a little puzzling. Similarly, her frequent literary and historical allusions, which are never explained, are reticent and elliptic.
Her works evolve through a series of stages, with each successive layer gaining a density until the final form emerges, coherent and cogent, yet insistently resisting the stamp of the finite. Her practice is dominated by a meandering, sensuous line which carries through into the fluid way in which her films are made and suggests a condition of flux. When the line is filled to form a plane and to become a receptacle, it is still kept open, to collect snow or rain water, as in, for example, In Their Order of Appearance, 2010, made for the Sculpture Center in New York.
Egan often works with very crude materials such as cardboard, plaster and concrete, and her sculptures are painted with carefully mixed, very matt colours. The rawness and openness of the sentiment or idea that triggered the work is embodied by these carefully manipulated materials. Egan does not wish to tell stories or make grand gestures but to find appropriate forms to engender psychological states and memories.
Upcoming and current exhibitions include Konrad Fischer, Dusseldorf (2020 solo show); Scenarios of Desire II, Emergent, Veurne, Belgium (5 July – 15th September) (Group) and Shadowplay, Kerlin Gallery, Dublin, Ireland; And the days run away like wild horses over the hills, Scoil Lorcaín, Seapoint, Ireland, (Group show) (31 July – 7 August). Recent exhibitions include Spitze, Farbvision, Berlin, Germany (Solo show 2019); staring forms, Temple Bar Gallery + Studios, Dublin, Ireland and Drawing Biennial, Drawing Room, London, UK (All group shows 2019). Other solo exhibitions include, A House and Its Head, Kerlin Gallery; NUI Maynooth (2017); Shapes from life, Douglas Hyde Gallery, Dublin, Ireland (2015 and 2012); There are all sorts of lives, Mary Mary Gallery, Glasgow, UK; The Sensitive Plant, Kerlin Gallery, Dublin, Ireland (2013); day wears, Douglas Hyde Gallery, Dublin, Ireland (2012); nature had an inside, Mary Mary, Glasgow, UK; Aleana Egan (At intervals, while turning), The Drawing Room, London, UK (Both 2011) Mole Vanvitelliana, Ancona, Italy (2010); Sunday Night, Temple Bar Gallery, Dublin, Ireland; Space for the man whose keys I rescued, Art Basel Statements, Basel, Switzerland (Both 2008). Further group exhibitions include Dorothy Cross, Aleana Egan, Siobhán Hapaska, Isabel Nolan, Kathy Prendergast, Kerlin Gallery (2018); Marian Cramer Projects, Amsterdam; Project Space Tilburg, The Netherlands (both 2017); CCA Derry (2015); Kettles Yard, Cambridge (2015); Vestibule, a large-scale public commission, Merrion Square, Dublin (2014); Irish Museum of Modern Art, Dublin (2013); Jupiter Artland, Edinburgh (2013); Sculpture Center, New York (2010); Landesmuseum Münster, Germany (2010); 5th Berlin Biennale, Berlin and Kunsthalle zu Kiel (2008).
Download PDF
Aleana Egan, Spitze
Farbvision, Berlin
15 March - 13 April 2019
A solo exhibition by Aleana Egan.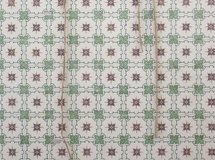 Aleana Egan in Cut-out Shapes in Secondhand Daylight
Marian Cramer Projects, Amsterdam
15 October – 3 December 2017
Three-person exhibition by Aleana Egan, Ulla von Brandenburg and Paulina Michnowska. Curated by Pádraic E. Moore.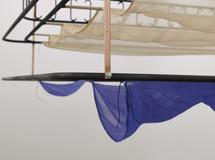 Aleana Egan
Illuminations Gallery, Maynooth University
1–14 February 2017
Solo exhibition.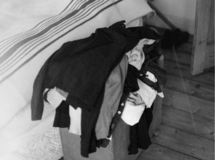 Out There, Thataway
CCA Derry~Londonderry, Northern Ireland
8 August – 29 September 2015
Group exhibition
Aleana Egan and Merlin James will both participate in Out There, Thataway at CCA Derry, alongside Stephen Brandes, Kevin Gaffney, Rana Hamadeh, Fergus Feehily and Nathan Coley.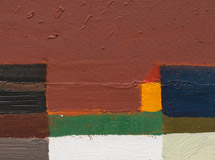 Aleana Egan, shapes from life
Douglas Hyde Gallery, Dublin, Ireland
31 July – 30 September 2015
Solo exhibition
In the Douglas Hyde Gallery's Gallery 2 space, Aleana Egan will present "an intimate encounter with a single new sculpture".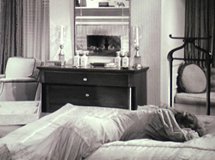 Aleana Egan, light on a leaf
Konrad Fischer Galerie, Berlin, Germany
13 March – 18 April 2015
Solo exhibition
The first solo exhibition of Aleana Egan's work at Konrad Fischer Galerie. The title of the exhibition originates from Mary Butts's 1928 novel "Armed with Madness", which also forms its latent undercurrent.
Aleana Egan, Vestibule
Merrion Square Park, Dublin
16 May - 20 September 2014
Aleana Egan presents a major outdoor sculpture as part of Vestibule, a project curated by Aoife Tunney, alongside Daniel Gustav Cramer and Eva Rothschild, activating Merrion Square and its surrounding institutions.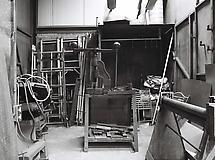 Aleana Egan & Sam Keogh
In the Line of Beauty
12 October - February 2014
Irish Museum of Modern Art, Dublin
Aleana Egan and Sam Keogh are amongst the young Irish artists to feature in the much anticipated group show In the Line of Beauty which opens at the Irish Museum of Modern Art on 12 October.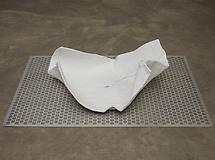 Aleana Egan, Spaced In, Spaced Out
Chesa Lendi, Celerina, Switzerland
12 August - 1 September 2013
Aleana Egan - Juliana Cerqueira Leite - Maria Nepomuceno - Elisabeth Wieser
Curated by Alma Zevi

By appointment only
SpacedinSpacedout@gmail.com
Chesa Lendi / Marolani
Giassa da las Barrieras 15
Celerina
CH-7505
Switzerland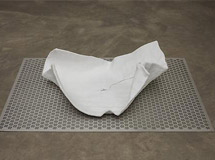 Aleana Egan, DRAWING : SCULPTURE
The Drawing Room, London
14 February 2013 - 06 April 2013
The exhibition explores whether the languages of drawing and sculpture are intertwined or simply parallel.